Walleye fishing in Oregon and Washington on Columbia and Willamette rivers have seen some record Walleye caught
But with your average walleye is usually a 3 to 5 pounds, which makes great for fish tacos.
Walleye tacos is my favorite way to prepare them.
With some Walleye weighing in at over 18 and 19 pounds. We generally like to release the big female walleye.
As a lot of people believe what the next world record walleye just may be coming out of the Columbia River system.
Fishing for walleye can be done all year around, here in the Lower Columbia and Willamette Rivers around Portland, Oregon area.
Walleye fishing is best in the summer months starting late April and right into September.
We do most of are Walleye fishing on the Columbia River just below the John Day Dam.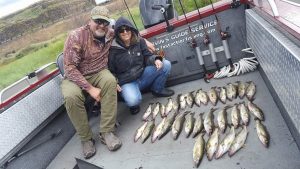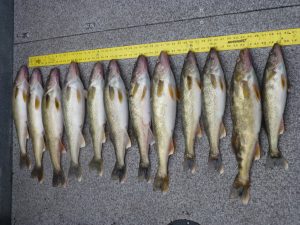 Walleye fishing on the Columbia River in Oregon and Washington generally involves trolling crank baits or night crawlers on worm harnesses.
I like to fish in 10-30 feet of water.
Once I find them, it's time to switch up to jigs and blade baits and work the area.
Round head jigs with a night crawler or curly tail grub often result in some of the best Walleye action.
Swim baits can also be jigged effectively and make a great bait for larger walleye.
Walleye make excellent table fare, and many will claim that they're the best eating fish that the Columbia River has to offer.
We might argue that some of our more popular native fish are a bit better though.
As these toothy predators can be elusive and shy on one day, and aggressive feeders the next.
Walleyes are a lot of Fun to fish on light tackle.
Marvin's Guide Service will fish walleye in Portland throughout the lower Willamette River, Multnomah Channel.
We also fish the lower Columbia River up to Bonneville Dam, and Jhon Day Dam.
Many people believe the world record Walleye will be caught on the Columbia River.
Just maybe with the help from Marvin's Guide Service that record Walleye could have your name on it.