Salmon fishing in Oregon and Washington starts mid-February on the Columbia River, And Willamette River. With Spring salmon ranging from 10 to 25 pounds. We would be spring salmon fishing in the Portland Oregon arear just about 10 minutes from the Portland Airport. Spring Salmon fishing in Oregon and Washington goes through June. We fish for the Spring Salmon on the Columbia River and Willamette River in the heart of Downton Portland, Oregon.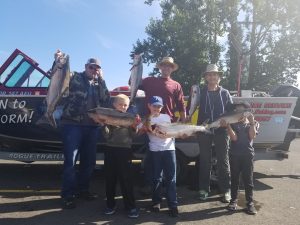 Fall run of king salmon begins in August at Buoy 10, which is at the mouth of the Columbia River near Astoria, Oregon.  Fall salmon run through September and into October. In the fall we catch plenty of coho salmon, also known as silvers.
Fall run of king salmon are typically larger, with some runs being over a Millon salmon returning to the Columbia River and plenty of Coho salmon around.
Tillamook Bay opens September 1st and salmon fishing there runs through the middle of November, depending on the weather.
Tillamook bay holds large salmon up to 50 pounds, but I would say the average salmon in Tillamook Bay would be around 25 pounds.
Fall king salmon run from 5 to 50 pounds, with 25 to 30 pounds being the average. In addition to great salmon fishing in Tillamook Bay, Marvin's Guide Service will also drop crab pots for your added adventure. Tillamook Bay always offers great crabbing for tasty Dungeness!!! Call today and let's talk salmon fishing.