Now that the Chinook Salmon season is shut down on the Columbia River below Tongue Point, and I have to say there was some great Salmon fishing down there, it is time to start doing some salmon fishing in the Portland, Oregon, area.
One of the fist places I will be Salmon fishing is down by the I 205 bridge on the Columbia River. You can fish a few different ways here one way I like to fish is trolling with a jet diver and an Alvin wobbler. Also sitting on the hook works great with a Alvin when the water is moving enough.
Next up, mid-September will be on the Columbia River just below Bonneville Dam. I will be back trolling with a jet diver and a quick fish. You don't want to miss out on September salmon fishing on the Columbia River, this is a great time to put some fresh Salmon in you freezer.
After September 10th you will be allowed to keep to Chinook Salmon on the Columbia river.
Call Marvin's Guide Service today and get Hooked up!
Find us on facebook and like us today Marvin's Guide Service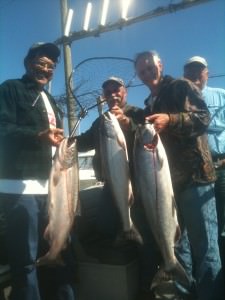 Last Updated on by Marvin



Comments
comments