I was on Willamette River Sturgeon fishing today (10-30-11). Sturgeon fishing on the Willamette River is catch and release this time of year and since the Willamette River always has a lot of action, it is a great place to fish.
During this time of year on the Willamette River, I try and scout out some new areas to fish for sturgeon. This way, when the season opens up some time after the first of year, I'll be ready and know were the Sturgeon are hiding!
So today the spot I fished sturgeon produced very well. We fished 4 hours and had 3 keeper size Sturgeon to the boat and we let go over 20 smaller fish also.
Not much current on the River so you will need to use your trolling motor to help keep your boat tight on the anchor.
I know one thing for sure when the Willamette River opens for sturgeon it is going to be awesome fishing. I guarantee you one more thing when Oregon Fish and Game do open the Willamette River for Sturgeon fishing it won't likely stay open long.
Marvin's Guide Service has a list going with people that would like to fish the Willamette when it opens, to get on the list and try to reserve a day call now. 503-314-5087
Please like us on facebook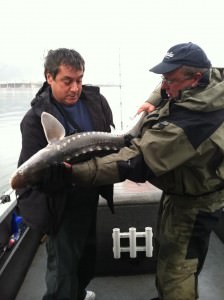 today
Last Updated on by Marvin



Comments
comments