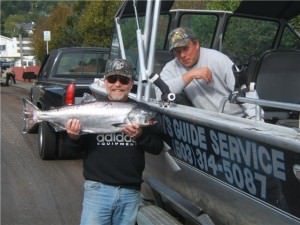 Fishing King Salmon in Tillamook Bay is starting to heat up.
We have been catching lots of Coho salmon, remember you can only keep the fin clip Coho.
There has been some nice really nice King salmon caught in the Bay.
I have been putting out 3 crab pots and getting around 25 keeper crab a day.
Fishing will only get better threw October!
Call Marvin's Fishing Guide service today for a day of salmon and crab fishing.
Last Updated on by Marvin



Comments
comments