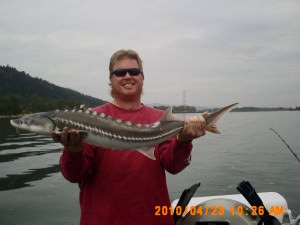 With Salmon fishing done on the Columbia River, it is now Sturgeon time on the Columbia River.
You will find some good Sturgeon fishing on the Columbia River at the Mouth of the Willamette River.
I also like to fish in the Troutdale area, under the power lines. You also have the deep water off the cliffs at Roster Rock. or go up the River to the flats around Multnomah Falls area.
Remember the new deadline is just around the falls.
May Is the time to start watching for shad to show up on the Willamette River, Shad is great bait for Sturgeon on the Columbia River. If you don't have any Shad I would use squid for bait.
Hope everybody had a great Salmon season on the Columbia river.
Last Updated on by Marvin



Comments
comments