Here is my Portland fishing report for 5/11/23. Today, three of us met up on the Columbia River at the James Gleeson boat ramp in Portland.
The Columbia River is currently closed for salmon, but I like putting in here and running to the Willamette River to beat some of the crowd.
When we got to the Willamette River, we decided to head up to the head of the channel before we started fishing. There were probably another 70 or 80 boats fishing there also. Today, I decided to use 360 flashers. On two of my 360 flashers, I was using spinners. Behind the other 360 flasher, I tied on a Brad's Super Bait with my secret sauce.
We trolled around with the other 70 boats for about 3 1/2 or 4 hours and we only saw one salmon caught, so it was a very slow morning.
So, the guys asked if they could go play with some sturgeon. I said, sure, no problem. Sturgeon fishing is catch and release. But it usually generates plenty of action. So, we headed up the Willamette River another few miles.
I put the downscan on, and I soon found a bunch of sturgeon lying on the bottom. We dropped the anchor, put the lines out, and it was almost instantly sturgeon on. We continued to sturgeon fish for about 2 hours, catching 8 sturgeon, all between 4 and 7 feet long.
By this time, both the client's arms were tired, and they said, we're good. So, we headed back down the Willamette and up the Columbia River, back to the James Gleason boat ramp to put the boat on the trailer and call it a day.
I personally don't see salmon fishing staying slow for long. Today we had extremely high water, and a lot had changed in the weather in the last day or two. That will settle down soon.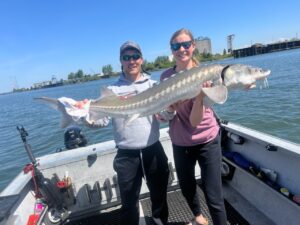 Last Updated on by Marv



Comments
comments