Willamette River Salmon fishing has still been good in the harbor area, both bait and spinners are catching Chinook Salmon.
With the high water you just need to clean your line of a little more often to make sure your bait or lure is working good.
Willamette River in the Oregon city area has been great for Chinook Salmon fishing, just prepare for big crowds here.
Willamette River Sturgeon fishing has been hot hot in the harbor. Remember the Willamette River is catch and release for Sturgeon. Squid has been the hot bait for Sturgeon fishing on the Willamette.
Yesterday 5-24-11 we did a catch and release Sturgeon fishing trip on the Willamette river and we ended up with 10 Sturgeon between 40 and 55 inches, and 2 Sturgeon over 6 foot long, Great day of fishing.
Columbia River is very high, but you still can find some good Salmon fishing out there around the Troutdale area was producing some Chinook Salmon yesterday.
Shad are starting to show up,I have been hearing some reports of shad caught in the gorge at the shad rack.
Use extreme caution if you anchor up at the Shad rack, as the Columbia River is flowing very hard and fast.
Fresh Shad is a good bet for Sturgeon bait.
Call Marvin's Guide Service today and get your fishing trip booked.
Please like us on facebook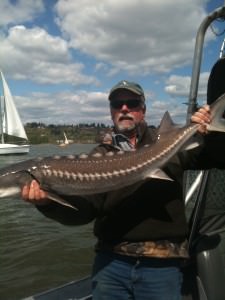 today
Last Updated on by Marvin



Comments
comments