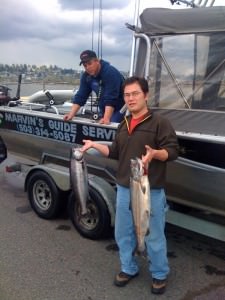 I have been hearing about some more Spring Salmon caught on the Columbia River. It just might be a great season on the Columbia River for Spring Salmon.
We will find out next week what days we can fish, I can only hope that fish and game won't screw us over this year. So if you want your shot at salmon fishing, you better call soon.
Sturgeon fishing on the Willamette River has been good, Squid or smelt has been a great choice of bait.
This time of year is a great time to start the day off trolling for Salmon, and the finish the day off fishing for Sturgeon.
Good luck fishing, and see you soon on the Columbia River.
Last Updated on by Marvin



Comments
comments