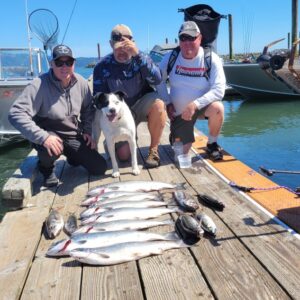 What a fun salmon season Oregon and Washinton had on the Columbia River. End of 2022 salmon season is here.
First of all, I would like to thank all who fished with ne this season. We had some fun days in the Ocean where we hooked 30 plus salmon a day.
We also had some days the fog was so thick you could maybe see 25 yards in front of you.  I know the fog made some of you a bit nervous, but to be honest
it did me also. Because my boat is rigged with great electronics from Lowrance with GPS, and Radar it made for a relaxing and salmon catching day
Just because salmon fishing is over that does not mean Marvins Guide Service is done for the season.
Now it's time to put the top on the boat and get the heater going, let's go crabbing.
Crabbing trips October and November in the Astoria Oregon area. you are allowed 12 crab per person. limits of crab are generally easy to get.
There is an area for a small fee cook and clean your crab for you if you like.
Maybe you want to wrestle a Sturgeon we can do that in the Portland Oregon area. Sturgeon is a catch and release fishery.
Sturgeon is a fun battle on lite tackle in the wintertime.
Give me a call and let's set up a fishing or crabbing adventure today.
Also let's get you a date set in 2023 fir Salmon, Sturgeon, walleye.
Last Updated on by Marvin



Comments
comments