Columbia River summer fishing should have you excited, we have lots of fish to catch on the Columbia River.
With Summer finally coming, there is plenty of fish for Columbia River fishing.
Here are a few of my favorites fish to catch on the Columbia River in the Portland, Oregon area.
June Shad – the Columbia River gets a ton of shad in June, following the end of the Spring Chinook salmon migration. This is a great fishery for kids because there is always a lot of consistent action. I also like to use shad for Sturgeon bait and crab bait. Shad fishing with light tackle always ensures a good time.
Summer Dino's – If you are after a monster fish over 8 feet and 400 pounds or more, well, then, let go do some sturgeon fishing. You will catch these Sturgeon on the Columbia River all the way into September, with fishing just 30 minuets from down town Portland Oregon. Can you imagine a 400 pound Sturgeon jumping out of the water?
well with the help of Marvin's Guide Service we will make that happen.
Summer Steelhead – fishing on the Columbia river is great, we also fish Steelhead just 30 minuets from down town Portland Oregon.
August Salmon – Now you should be really excited. Astoria, Oregon, Buoy 10 salmon fishing at the mouth of the Columbia River just might be some of the best salmon fishing Oregon and Washington have to offer. King salmon can get up to 50 pounds. And believe me when I say there is good salmon action, I mean good.
Astoria is about a 2 hour drive from Portland, Oregon we meet at the Hammond Oregon marina for Buoy 10 salmon fishing.
Call Marvin's Guide Service today and get your day's booked.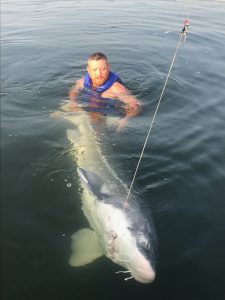 Last Updated on by Marvin



Comments
comments