Buoy 10 fishing 2023 Astoria Oregon  salmon season is coming up fast.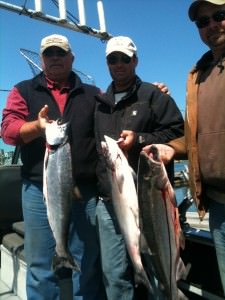 August is a great time to be fishing in Astoria Oregon From the Mouth of the Columbia River and the famed Buoy 10 and all the way up to the Astoria Bridge. You can easily catch limits of salmon in a short time. People come from all Oregon and Washigtion to fish here.
This is a fishery I love to do and look forward to doing every year. I keep my boat moored at the Hammond marina.
Both big fall Chinook (King) salmon and Coho (Silver) salmon are open.
Both wild and hatchery born Chinook salmon are legal to keep while the Coho's must be fin-clipped hatchery fish.
Be sure to check current regulations before you keep a wild chinook salmon, as Oregon and Washigtion fish and wildlife have been putting restrictions on when wild Chinook salmon may be kept ,
When I fish the lower Columbia River for salmon I like to troll Herring using 16 to 20 of lead to get the bait deep in the water.
We usually always troll with the current so, sometimes you are covering lots of river in a little time. I can tell you this when you get a strike trolling down river you will know it because they will slam the rod tip to the water. If you are looking to put some fresh Salmon in the freezer you won't want to miss out on Buoy 10 fishing in August.
One nice thing about the Hammond marina is we have the facility at marina called Big Game Fishing and the will get your catch vacuumed sealed and prepared to ship if you like.
Book your Buoy 10 fishing 2023  date with Marvin's Guide service  today as days fill up fast.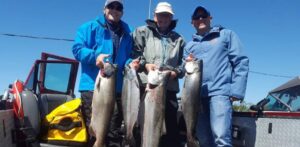 Last Updated on by Marvin



Comments
comments