A few tips on anchoring for salmon!
When anchoring for Chinook salmon it is all about having a good location. Salmon swims upriver in lanes. So, if you are anchored and see other boats catching salmon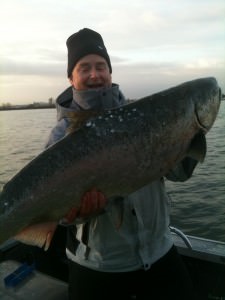 , and you're not, sound out the area, and get a good idea of the depth they are in, then try to duplicate it in a nearby area.
If you are using a kwikfish make sure its in tune, try to make it runs straight. If the kwikfish is going to the left or right bend or twist the eye of the kwikfish in the opposite direction in witch you want it to go. Make small changes until the kwikfish is going nice and straight.
Kwikfish colors, I have had some good susses with chartreuse, but don't be afraid to try different colors.
I also like to use a bait wrap on my kwikfish, for extra scent.
Hope everybody has a great salmon season this year.
Please read more about salmon fishing here.
Marvin
Check us out on facebook and like us today.
Last Updated on by Marvin



Comments
comments