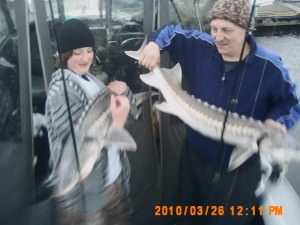 What do you like about fishing? Is it the fresh air? Is just being on the River? Or is the prize on the end of you fishing rod when you get that bite?
For me it is the battle the fish puts up when you get that hook up. That is why Sturgeon Fishing on the Columbia River just might be one of my favorite fish to catch!
Columbia River Sturgeon may reach 13 feet and 500 pounds and bigger. Just imagine being on the water and getting a bite, you set the hook and the battle is on. Line is Peeling off the reel, this giant Sturgeon jumps, all 8 or so feet of the fish is out of the water, amazing!
When fishing on the Columbia River this dream can come true! You can not keep sturgeon this big but you may catch and release them. to keep a Sturgeon they must be between 38 and 54 inch.
Sturgeon is without a doubt my favorite fish to eat!
Call Marvin's Guide Service today, and book your trip on the Columbia River for Sturgeon fishing.
Last Updated on by Marvin



Comments
comments