Well, the 2017 Fishing Season is winding down.
2017 definitely was an exciting and different season for me. We started out in January fishing for keeper sturgeon on the Columbia River above Bonneville Dam. Keeper sturgeon would be from 38 to 54 inches in length. Weather was terrible and we had to cancel the first two weeks of the season.
When we finally did get a break in the weather and was able to get up the Columbia River Gorge, the Sturgeon fishing was productive and we had many says with keeper sized Sturgeon in the boat. It was still cold outside, but it was nice to have a covered and heated boat to stay comfortable.
Then, of course, we went in to catch and release sturgeon on the Willamette River for February and March. Like always, that season was red hot and plenty of action with sturgeon ranging between four and six feet long.
April brought on the Spring Salmon season. It started off slow, but ended great. It really did take a while for the salmon to show up in any great numbers, but once they did, it was great.
Springtime also brought some exciting Walleye fishing in the Columbia River. We had days of walleye fishing where we had 25-30 Walleye in the box.
Walleye was extra exciting for me on May 2nd, 2017. I took Andy Carson from Fox12 and Good Day Oregon fishing live on TV. It was an excellent morning of fishing and we ended up with 24 Walleye and we even released a few Sturgeon.
June was an exciting month with Salmon and monster Sturgeon on the Columbia.
June always brings some big hog Salmon into the Columbia and it's also the best time for monster Sturgeon—over eight feet long.
Towards the end of July, I decided to hit the Pacific Ocean out of Astoria to target salt-water Coho and Chinook Salmon. Now this was some exciting fishing with plenty of super-fresh Coho and King Salmon on the boat.
In August the Columbia River opened up for King and Coho Salmon, so we moved to the Mouth of the Columbia River in Astoria. It was a great month of fishing with plenty of Kings and Coho in the boat.
September we started fishing back in the Portland area again. This was one of my best September seasons ever. Full limits of King Salmon were fairly routine on the boat all month long, and the weather was fairly nice as well!
In mid-October I made the move to Tillamook back for Fall King Salmon and Dungeness Crab. Salmon fishing was decent with some of the King Salmon exceeding 25 pounds. The crabbing was just as great with plenty of limits.
And now we are heading into November and December. We will be offering crab trips in November at the Mouth of the Columbia River. This usually brings lots of limits of fresh Dungeness Crab, just in time for your Thanksgiving Dinner.
Both November and December are some of the best times for winter catch and release Sturgeon Fishing.
Don't let the weather scare you! My boat is covered and heated for your comfort.
It's never too early to call and schedule your day, whether it be for winter fishing, spring fishing, summer fishing, or fall fishing.
Let's get you hooked up!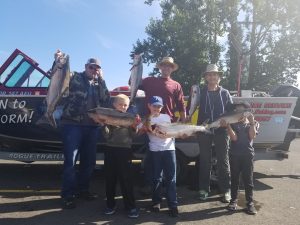 Last Updated on by Marvin



Comments
comments