Columbia River Steelhead fishing is starting to heat up in the Gorge. I have been fishing at that upper end of the Shad rack in about 12 feet of water. The Columbia River is very fast now, so use caution when you anchor here.
How to rig up for summer Steelhead on the Columbia River.
I like to use a slider or my lead line, then put 2 or 3 beads, then tie on a bead chain swivel.
I make my lead line 20 inches, then of of my bead chain I tie a 25 inch leader to it with a spinner on the end.
I like to use a number 5 blade.
Back bounce your line out 6 to 8 oz of lead has been good. When the Steelhead hits you know it, the pole will double over to the water.
Good luck to all you, and be careful.
Here is a picture of Good Day Oregon's Andy Carson.
Marv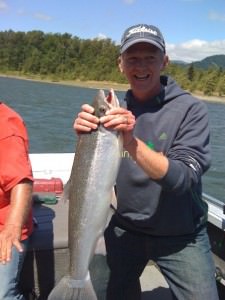 Last Updated on by Marvin



Comments
comments