Columbia River salmon fishing starts tomorrow. I will be fishing in the Columbia River gorge. There are about 2000 salmon a day going over the dam.
I like to fish in 12 to 15 feet of water and use spinners.
Fishing can be done at what everybody calls the shad rack.
With Salmon fishing and shad fishing going on in the same area it could be alot of fun!
I will be getting there early for the best spot.
The other thing you could do if salmon fishing is slow, is go Sturgeon fishing.
Don't forget time to star thinking about steelhead in July.
see you all on the Columbia river soon.!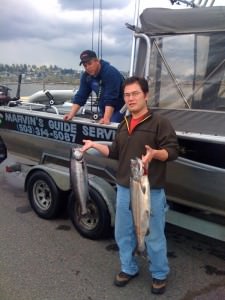 Last Updated on by Marvin



Comments
comments