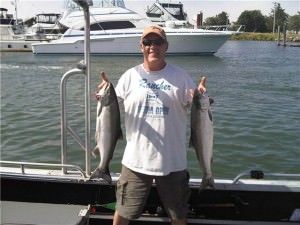 So, what a day. For the first time In thirty-five years I went salmon fishing. At Buoy 10. I caught two beautiful Cohos, about 12 pounds each. That's no fish story, I've got the pictures to prove it. Marvin gave us superb service and guaranteed we'd catch salmon today, and we did.
What more can you hope for from a fishing guide.
Tonight when my wife and I are eating the sublime salmon, I'll be thinking of my Dad, my family and my new friend Marvin and counting my blessings.
Call it beginners luck, but it was splendid.
It sure "sucked to be me" today.
feeling the spray in my face, smelling the salt air brought back childhood memories of fishing with my Dad, wwho passed away a few years ago. An emotionally soaked experience this was, but it was as "all good."
Thank you Marvin, thank you very much.
When can we do it again?
Tim Curran
Publisher, Mid-county Memo
www.midcountymemo.com
Last Updated on by Marvin



Comments
comments