I'm wrapping up the 2015 fishing season.
It's been a great season,
Started out in the springtime catching king salmon on the Columbia River.
Then moved into the Willamette River around the St Johns area and had a very good April and May catching lots of spring king Salmon.
We were very fortunate they had the Columbia River open in June for the summer kings.
I myself was taking my trips right around the I 205 bridge on the Columbia River.  had great success. on the Columbia River.  Also in June we were throwing in an occasional catch and release monster sturgeon trip.
from Salmon to sturgeon April, May and June was excellent fishing.
In July I did something a little different, I headed down to Astoria Oregon to do some fishing.
For  the first time in years the Columbia River was open to king salmon above the Astoria Megler Bridge.
Let me tell you fishing was unbelievably awesome.
There were days in July we had our limit in a matter of minutes. So then we would continue the day catching and releasing 20 to 30 sturgeon.
King salmon fishing continued to be awesome as the whole Columbia River opened up August 1st.
August was one of the best years I have ever seen in the buoy 10 area which is the mouth of the Columbia River.
King salmon continued to be awesome going up the Columbia River to the end of September with lots of fish being caught just below Bonneville Dam.
In October  started runng my salmon  trips in Tillamook Bay for King Salmon. I have done salmon here for many years.
This was one of the best years I have seen.
We had days where we had multiple salmon over 25 pounds in the box.
Now you're probably asking what about November?
Well in November I did the catch and release monster sturgeon.
My boat is covered and heated so it makes sturgeon fishing very nice.
Monster sturgeon this November was just off the hook. Days In November where multiple fish 8 to 10 feet long and multiple fish 5 feet or better.
On a typical day  able to wear my clients out early.
Of course in November we threw in a few crab trips together.
Crabbing was just fabulous. I'm sure many people had fresh Dungeness crab on there Thanksgiving dinner plate this year.
2016 around the corner, I'm looking forward to the same great fishing for salmon, sturgeon, steelhead and bottom fish that we had in 2015.
So if you're looking to do some fishing in 2016 give me a call today. Let's get you in the books. Space will be limited  days will fill fast.
Remember we fish from
a covered and heated boat so don't be afraid of the weather because your covered in a covered and heate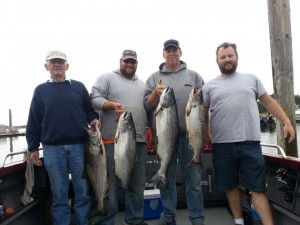 Columbia River Salmon
Last Updated on by Scott



Comments
comments