by Marvin on Oct.18, 2009, under Sturgeon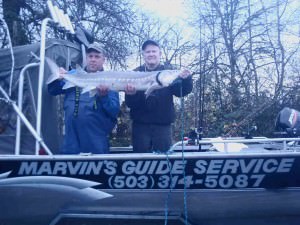 Sturgeon fishing in Portland Oregon during the winter makes for some great fishing!
We sturgeon fish on the Willamette River right in down town Portland, Oregon.
We fish from a covered and heated boat.
Sturgeon come up the Willamette River because it runs a bit warmer than the Columbia River.
We fish with Light tackle, making it a great battle with a monster fish. Why stay home and watch fishing shows on TV? when You could be catching winter Sturgeon with Marvin's Guide Service?
call Marvin and ask about winter rates January and February fishing trips only!
Thanks for coming by... If there's something you'd like to see me write about, or you have a question about this article, please leave a comment below, and I'll see if I can get to it soon.
:charter fishing, Columbia River, guide, guides, Oregon fishing guide, oregon sturgeon fishing, Portland, river, steelhead, Sturgeon