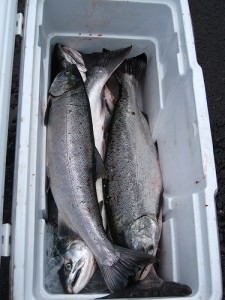 With experts saying that the Columbia River is going to have the best run of Spring salmon since 1938, I am looking forward to great salmon fishing in the Portland Oregon area. Let me tell you last year we had plenty of action, and expecting more this year, WOW!!!!
Now were to fish? anchor or troll? I will be doing both, for me it all depends on the weather and the speed of the river. If I troll I only troll down river with 6 t0 10 oz of lead, I like to troll hearring, I want my sinker to hit the bottom every few seconds, When you get a strike there is no doubt the fish is there.
If we have lot of current I will anchor my boat. I like to use jet divers, let the line out about 50 or 60 feet behind the boat, put the rod in the holder,and then go sit under the top with a heater. When that spring salmon hits the diver, wow your fishing pole is doubled over and the fight is on!
If you are thinking of booking a spring salmon fishing trip call soon.
Dont forget to visit my home page at www.fastactionfishing.com
I look forward to seeing you all on the river!!
Marv

see my Salmon page
Last Updated on by Marvin



Comments
comments